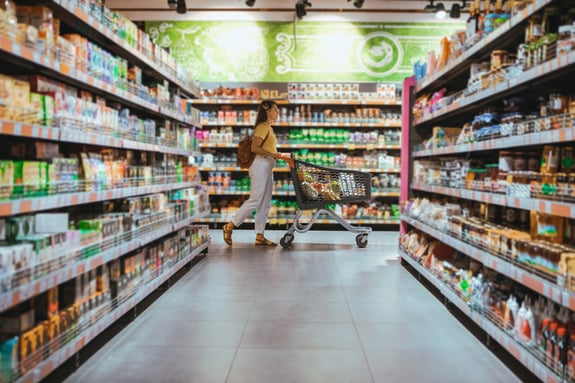 Services
We're customer-focused.
Service is the foundation of what makes Shelf2Cart a united and caring partner that stands out above the rest. We maintain a longstanding belief in building relationships with customers, and hope to earn your trust by doing our best day in and day out to meet your needs and deadlines. We have an outstanding design team that can offer solutions to your design, labeling and packaging needs. Our success is further aided by the creative and strategic solutions offered by our growing network of partners and subsidiaries.

We offer custom label design and printing expertise, and also have an expert technical team that can help problem solve with running our products through various printers, label applicators, and more. We are focused on partnering with our customers and assisting with your focus on enhancing your shoppers' experience and growing your sales.
Database Management
Our data team installs, reviews, updates, and compares databases for The Merchandiser® customers. We provide a working database for each new customer system, including customized item lists and a "drill-down" item category menu, as well as assist existing customers in maintaining their databases upon request.
Graphic Design
We can design a label for your brand that will accurately depict your values and benefits, helping to communicate with your customers on a higher level than a traditional text label. Drive real results with branded graphics and information that is important to your customers.
Service/Support
At Shelf2Cart, we provide you with a superior merchandising solution and want to ensure it stays that way. Service and repair is important to us, and we provide access to precise analysis, assistance, and training. Our technicians and service team is well known for their excellent support and responsiveness.
What Our Customers Have to Say...
"Food Giant chose the Shelf2Cart team to handle all of our shelf signage, label, tone, printer, and printer supply needs. They have also worked closely with us when we have needed custom labels or signage created. They offer compliant, remanufactured and OEM toners. Their imaging program has very competitive pricing and is very reliable. The Shelf2Cart team was an excellent choice for our company and always has a solution for our in-store marketing needs. We have been doing business with them since 2003."
"When we moved to a new and bigger location, we wanted to change the look of our tags and signage. The Shelf2Cart team was there to help us with new designs that looked fantastic. Their team was great to work with and we are very pleased!"
"Stew Leonard's has been working with the Shelf2Cart team since 2018 and have developed a great partnership during that time. The equipment that we have purchased from them is of good quality/durability and user friendly. Durability and ease of use is extremely important to maintain a successful labeling program. Their customer service and technical support has been wonderful. They have also been working with us to help integrate their labeling program with a production planning and waste management program. The Shelf2Cart team has been such a great addition to the Stew Leonard's family that we have purchased 40 new systems for our stores. We know that having them as a partner will be extremely helpful to us in increasing sales and maintaining a high level of customer satisfaction."