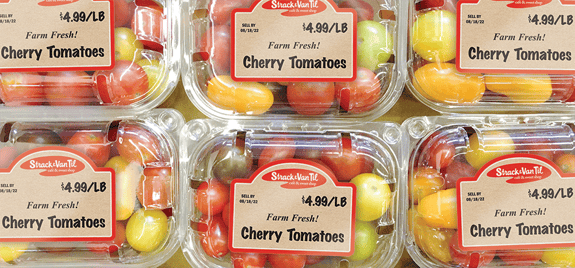 Take Your Labels From Scale To Upscale™
Your ability to move more product from shelf to cart isn't just about what you're promoting; it's how you promote it.
The Merchandiser® system allows you to enhance the appearance of your products by quickly creating and customizing labels to match your company's unique brand values—on-site and on-demand.
Our software uses your database, including customized item lists and a "drill-down" item category menu, providing an easy user experience, as well as available training videos on printer and software operations for users in store.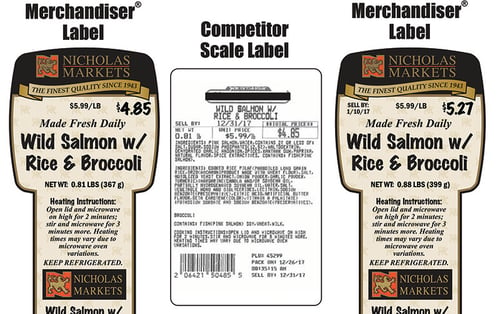 Custom Labels for Food Packaging and More
Food Label Printer Software
Our proprietary software for The Merchandiser® allows each label to have different information such as product name, sauce, ingredients, and nutritional facts, in order to be customized and placed on a different product. It also allows you to print several consecutive labels quickly and place them on like products. We continue to evolve and enhance our software regularly to add benefits and ensure that it is user friendly. Our software also allows you to print any style of nutrition fact panel, whether it is new or old.
A user can edit an ingredient list or item as needed in the store if you choose to have it set up that way, or a central administrator can update a networked system to reflect a change across several stores using The Merchandiser®. We offer technical database support to ensure you have the solution you need.
Shelf2Cart partners with NICELABEL™, a leader in professional barcode software, and makes it even more user-friendly. The Merchandiser® will not only meet your labeling needs, but it will surpass them by making your workflow more efficient and hassle-free.
The Merchandiser® has earned a NTEP (National Type Evaluation Program) certification through extensive testing and evaluation done by the National Conference on Weights and Measures (NCWM) to ensure its meets all the government standards and requirements set by the NIST (National Institute of Standards and Technology), making the software 'Legal-for-Trade'.
Food Label Printer Hardware
Shelf2Cart supports hardware for The Merchandiser® and is a reseller and repair facility for thermal printers. The Merchandiser® is available with a touchscreen, a hard drive, a printer, a scale, and shelving to fit - to provide our users with a full solution at time of setup. We offer a large selection of models from various manufacturers including EPSON, Honeywell (Datamax), Sato, Elo and Rice Lake.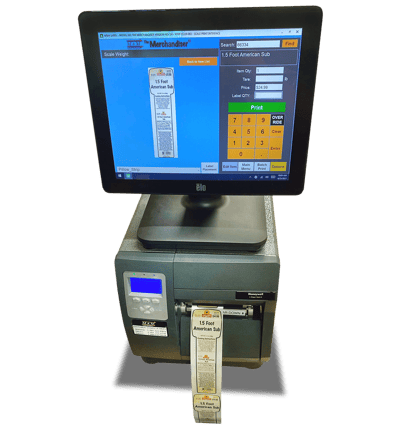 Custom Food Label Printer Software Modules


Admin Module
Update additional fields / tables with data not stored in central file management software. Manage security and ability to forward various types of data to all store locations.

Nutrition Facts Label Module
The Merchandiser® database and import supports the new fields required for Nutrition Facts. Various label formats can be set up to meet your merchandising and packaging needs.

Food Label Placement Module
The Merchandiser® Label Placement Module allows users to set up examples of how the labels should be placed on various types of packaging. Consistent label placement produces improved presentation in product displays, elevating product appearance and quality in the eyes of consumers.

Accumulator Module
Our Accumulator tool allows the user to print out a single label for multiple items (used for mixed pastries, pizza slices, etc). This would be helpful for a group of like items that do not get weigh-priced, and in commissaries where many like items are being batched and labeled together.
Production List Module
Our production list feature allows the user to print out labels and signage from a saved list. This would be useful if the same items are made or repackaged on a regular basis, to expedite the process and reduce labor cost.

Importer Module
The Merchandiser® Importer Module allows The Merchandiser® to receive and process data from files created in various types of software, including: ADC, Invatron (Plum, E-Plum), LOC / SMS, CBORD, Digi, Droste, ESHA, FoodPro, NutriCoster, Ishida, Mettler Toledo, and ScaleMaster. The Merchandiser® Importer can also be configured to import tab delimited and Excel files.

Point-of-Purchase Signage Module
Allows users to print signage that compliments their labeling look and can be changed or refreshed easily. Typically used in the following areas:
Cold, Hot, Salad, Soup bars

Bakery Case

Chef's Case

Deli Case

Meat/Seafood Case
Enhanced Signage allows users to add the "Country of Origin" and "Custom Phrases" at the time of print. This can help customize based on how a department or case is organized and how your customers prefer to shop.

Cheese Label Printer Module
The Merchandiser® Cheese Module allows the user to populate the database with the following for each product:
A Story Line – Short Merchandising Description

Define Cheese Characteristics

Milk Type

Texture

Flavor

Wine Pairing

Use

Country

Etc.
This data can be printed on labels and / or signage.