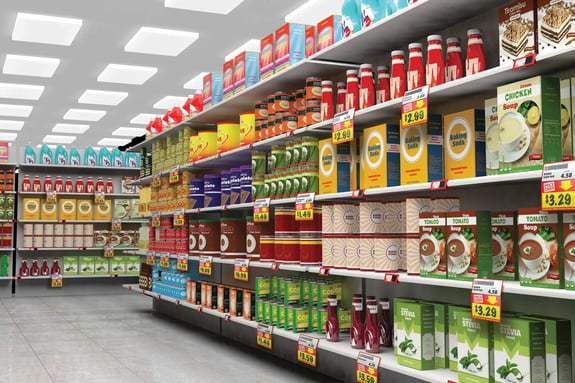 With over 750 options for point of purchase signage, Shelf2Cart is a one-stop shop for grocery store signage.
We know that disrupting a shopper's routine is the best way to encourage impulse buying. We also know that in-store signage is the most effective and efficient way to influence what the customer ultimately purchases. And our signs for grocery stores do just that—they speak directly to the consumer, enhance your merchandising and highlight your products and specials.

We've got shelf talkers and freestanding signage. We have price signs for retail and hanging ceiling signage. Our signage can be printed on various substrates and films, which means that we truly have a solution that's ideal for every situation.

Your goal is to put information in front of your customers in order to influence their buying decisions, and with our point of purchase signage, that's a goal that's within reach for every retailer.
Enhance Your Merchandising with Stock and Custom Signage
Draw attention to special buys or weekly specials
Disrupt those shopping on autopilot
Supplement employee interactions by answering questions and directing shoppers
Highlight product attributes like Keto, Gluten-Free and Allergen-Friendly
Educate both shoppers and employees with double-sided signage
Add a premium feel to Grab N Go, deli and bakery selections with chalkboard signage
Guide shoppers through your store with directional and informational signage
Products
Variety of substrates, including papers and films
Your Stock and Custom Signage Partner
At Shelf2Cart, we use our 35 years of industry experience to support you as you plan and implement an effective signage strategy. Our wide selection of grocery store signage, point of purchase signage and other signs for grocery stores will enhance your merchandising, strengthen your branding and help move more product from shelf to cart.

Get in Touch With Us
We're always available to be a sounding board, to provide guidance and to support you as you select the right products for your store. Contact us at info@shelf2cartsolutions.com or 1.800.637.6628.